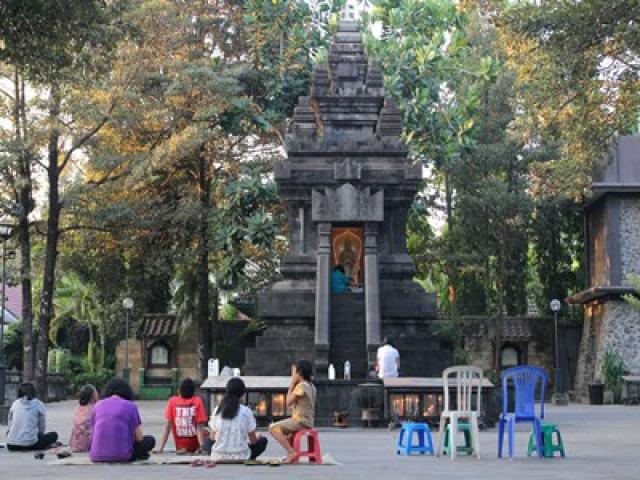 Ganjuran Temple pilgrimage of the sacred heart is one of the spiritual pilgrimage of Catholics, cultural backgrounds and unique history. Ganjuran temple is located in the district of Bantul, 20 kilometers south of Yogyakarta, built on December 26, 1927 and was blessed by Msgr. Van Velsen, the Archbishop of Jakarta on February 11, 1930. As a place of worship of the Catholic shrine, the Temple of the Sacred Heart Ganjuran unique cultural history, which is a model temple of Hindu and Javanese style, a combination of the Ancient Mataram and Majapahit Javanese-style statue of the Sacred Heart. In 1938, MGR Soegijopranata, a parish priest who later became the first indigenous bishop in Indonesia in 1941, initiated the procession of the Blessed Sacrament as a sign of homage to the Sacred Heart of Jesus on the altar of Ganjuran temple.
 
Eucharist impressed grand and stately where the Blessed Sacrament was paraded around the location of the church, the rituals of Java. And as tradition, as the procession held every year on the last week of June, as the procession ceremony. Temple of the Sacred Heart of Mary Cave Sendangsono Gajuran and blessed at the same date and month, on February 11, when the apparitions of Our Lady at Lourdes. It's just a blessing cave in Sendangsono done on th, 1929, while the Temple of the Sacred Heart Ganjuran conducted in 1930. This is so that the two become intertwined, as Mary and the Sacred Heart of Jesus be blessed by the Father to be together - as a blessing for all mankind.
 
Temple of the Sacred Heart Ganjuran also be a place for healing a number of diseases. There are several accounts of the pilgrims in the temple of the Sacred Heart of Jesus Ganjuran, is associated with healing diseases that have long suffered. Miracles of healing that occurs after they shower and drinking water temple known as Tirta Perwitasari. The water comes from under the temple with a debit substantial source, ie 30 thousand liters per minute. There are 9 water faucet in the Temple of the Sacred Heart of Jesus Ganjuran.