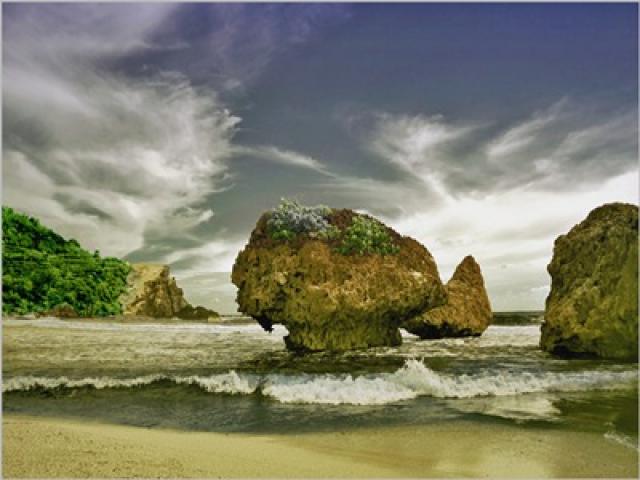 Siung beach located in Gunungkidul district, about 2 hours from the city of Yogyakarta. The advantage of this is the beauty of the beach Siung coral stone. Beautiful large rocks and are often found on the beach cloves, which is located on the west side and east side of the beach. The coral reefs are the basis for naming of the beach, witness the triumph of the coastal areas in the past and the charm that makes the well known beaches.
The coastal region is the history of the triumph of cloves in the past. It has been became one of the trade centre in the region with the presence of a market Gunungkidul named Winangun, which is home and Nyai Podi wife of courtiers the Palace of Yogyakarta and Solo.
Since 1989 until now, cloves coast known as the cliffs and beaches have become feasible for rock climbing facility and not be surprised if in 1990 had held the race Asian Climbing Gathering. The waves were not too big on the waterfront, it is no wonder if the tourists will enjoy the beauty of the beach is surrounded by swirling in a beautiful white sand and exotic.
Right now there are 250 climbing routes in Siung provides choice for sports fans rock climbing. The climbing lane may still be added, with the rule that the existing path with the permission of the manufacturer's previous path. Many people who have made use of the climbing routes on the beach.
Facilities at the beach Siung very supportive rock climbing, camping ground on the east coast. In this place, the tents can be set up and the fire set to spend the night. Terms of use just one, that does not damage the environment and disturbing the turtle habitat. As noted in a sign board there in the camping ground which can also be used by visitors who wants to stay overnight.