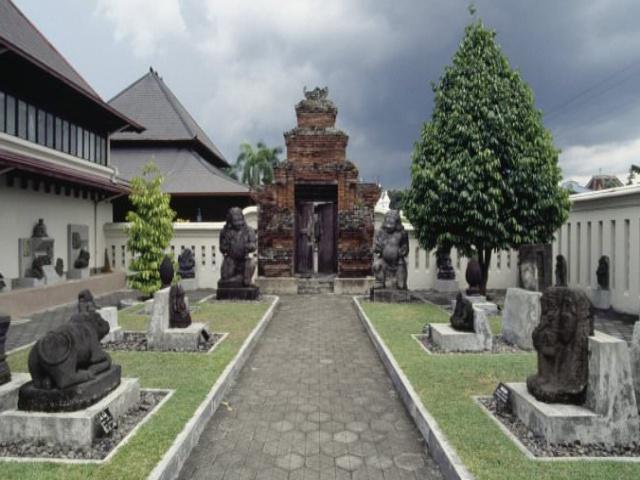 Sonobudoyo Museum is a foundation which is engaged between culture of Java, Bali, Lombok and Madura. The Foundation was established in 1919 in Surakarta named Java Institute. In the decision of Congress in 1924, the Java Institute will establish a museum in the city of Yogyakarta. In 1929 performed data collection culture of Java, Bali, Lombok and Madura. Establishment of Museum Planning Committee was formed in 1913 with members: Ir. Th. Karsten P.H.W. Sitsen, Koeperberg.
The museum used the former land gift from Sri Sultan Hamengkubuwono VIII and marked with Sengkalan Candrasengkala "Buta ngrasa estining lata" in the year of 1934. While the inauguration by Sultan Hamengkubuwana VIII on Wednesday Ruwah wage on 9th 1866 Candra Java and characterised by sengkala "Wood Kinayang Ing Brahmin Buddha" meaning in Java or November 6, 1935 AD. During the Japanese occupation, Sonobudoyo managed by Regent Paniradyapati Wiyata Praja. Then managed by Regent Utorodyopati Prawito Culture at the time of independence the government of Yogyakarta.
Subsequently in late 1974 Sonobudoyo submitted to the Department of Education and Culture and is directly responsible to the Directorate General of the Law No. 22 of 2000, concerning the authority of the Government and the Autonomous Regions. Sonobudoyo joined the Department of Culture and Tourism, Yogyakarta Province in January 2001 and proposed a Regulation No. UPTD. 7 / Th. 2002 on August 3, 2002, on the establishment of the Regional Department UPTD organisation within the Government of Yogyakarta and Gubernatorial Decree No. 161 / Th. November 4, 2002 Date of TU - Poksi.
This Sonobudoyo saved 10 Type Collection:
Collection of Geology
Collection of Biology
Collection of Ethnografica
Collection of Archaeology
Collection of Numismatica / Heraldika
Collection of History
Collection of Filology
Collection of Cheramology
Collection of Fine Arts
Collection of Technology