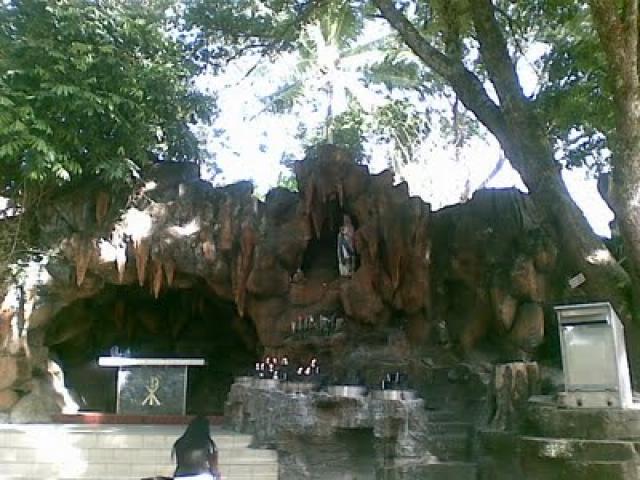 Maria Kerep Cave Ambarawa including pioneering the caves in Indonesia after Maria Sendangsono Cave and Maria Cave Kulonprogo District of Insist Maria Sriningsih Central Java. Kerep cave was founded in 1954, was born with a simple history and not based on a vision. However the cave can not be said to occur by chance. Everything happens for sure because of the will of God that has a plan for mankind in Ambarawa particular and Indonesia in general.
Birth of Mary Kerep cave can not be separated from a Dutch citizen who served as the manager of the plantation in the Ambarawa, who had offered the land and house to the church. The land and the house was awarded to Brother Apostolic Congregation. Congregation was founded by MGR Albertus Soegijapranata and consisted of local people as well as the status of the diocesan congregation. But unfortunately, the congregation did not last long because there was no demand until dissolved. In the land of the monastery, founded Ambarawa Kerep cave.
Development Goa Maria Kerep also closely related to a pastoral letter from the Pope in 1954. Pastoral letter is the Marian Year in order to commemorate 100 years of age dogma Maria Contained pure. The contents of the letter Shepherd urged all parishes held a memorial in honor of the Virgin Mary. Former Director of the Congregation of the Apostolic Brother, Father J Reijnders which at the time became the Parish Priest St. Joseph Ambarawa, urged people to hold a celebration to honor the Virgin Mary. At the time of a priest, Father Bernardine Soemarno SJ come to the place, Romo had Reijnders make sharing on the activities in the framework of the celebration of the feast Maria. By Father Bernardine Soemarno suggested that SJ is a cave as a place of devotion to Mary.
The idea of ​​Father Bernardine Soemarno SJ then realized in 1954. School students living in the dormitory teacher Bruderan and Sisters Ambarawa ordered to gather stones from the river length and gathered in the garden Bruderan Apostolic Kerep. According to Reijnders Father, Brother FX Woerjoatmodjo, who was the head of the hostel and stay at Rectory Ambarawa helped lead.